Rank VII
Staff member
Founder 500
Member

Pioneer II
8,507
First Name

Michael
Last Name

Murguia
Member #

0000
Ham Callsign

KM6YSL
Hey everyone! Welcome!
​
If you are reading this thread, you are probably interested in the Overland Bound Membership and Emblem! You can get them in our store here:
Overland Bound Store
Overland Bound Membership:
This is the primary way to support us, and become a member of our crew! We offer four different membership packages.
Membership Includes:
Member Map: Access to a world wide network of overlanders. Contact members on the map individually or by region!
Rally Point: Access to Overland Rally Point Trip Planner. Create and share your own overland events and broadcast to our member network!
Member Event Calendar: See member events worldwide, and create your own by adding any forum thread to the calendar!
Member Forums: Private forums to OB Members for exchange of personal information, plans, and other details.
More to come!
Overland Bound Membership + Emblem:
By purchasing membership with an emblem, you get a unique engraved emblem with your member number, that is yours forever and all time.
Emblems which are automotive grade and solid metal to last a lifetime.
2-3/8″ Diameter Solid metal emblem with permanent adhesive back, Numbered and registered to its owner in our records.
Signed certificate of authenticity with number.
A Member banner on your forum profile showing how awesome you are, and what you stand for!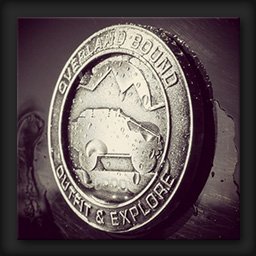 Original Thread from March 15, 2015 [Posted here for posterity, and the record.
There is no longer a reservation list.
That was for number 1 - 500. Thank you all for the continued support!
==========================================================================
Hi Everyone, here is the reservation list so you can see what numbers are still available. This list is read only, so you need to contact me to request a number and I will reserve it for you. You can contact me through this forum, or IG, just make sure you give me your real name and social media "handle" or name. I need both to match your emblem order with the request! Remember, only 1 - 500 will ever be "reservable". After that it is first come first served.
Thanks all! We are really overwhelmed by the support!
Michael
Last edited by a moderator: