Rank VII
Staff member
Founder 500
Member

Pioneer II
8,507
First Name

Michael
Last Name

Murguia
Member #

0000
Ham Callsign

KM6YSL
When you become an Overland Bound Member with membership number, you get access to the
OB Members Map
. This allows you to see what others in your area or an area you're visiting, see trails, mechanics, camping spots and much more! Our map is ever growing with member inputs.
Some of the Colors and Symbols:
1. Gold - OB Member
2. Black - Forum user, not OB member yet
3. Red Badge - Rally Point event
4. Purple Badge - Mechanic
5. Jeep - Trail & Info
6. Feather - SVRA
7. Tent - Camping Spot
And many others....
There are a few steps to gaining access:
You MUST be an OB Member (have membership number) and have your forum account upgraded to "Member" (you will have a gold banner in your forum profile card that says "Member".
If you are not a member with a number, Go here: OB Member, then contact us to upgrade your forum account.
You can now access the Member Map!
In your user drop down menu, edit "Personal Details".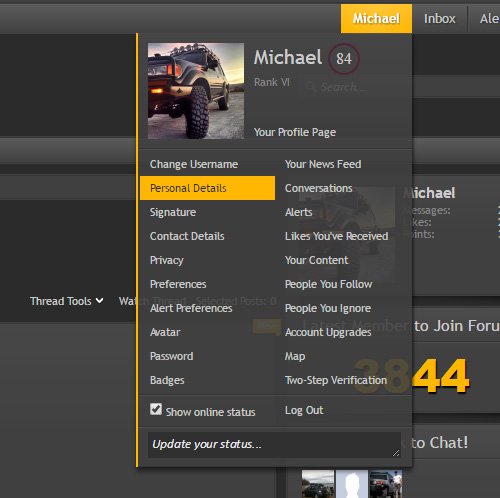 ​
Edit "Map Location" - This is your location on the member map.
​
Also edit "Host and "Helper" to indicate if you are available for members to stay, or call you for assistance!
PLEASE NOTE: The Member Map updates once a day at Midnight Pacific time. When you add yourself or make any changes to your location, please wait until after that time to see your changes.
Last edited by a moderator: