Enthusiast III
473
First Name

Aaron
Last Name

LaGrange
Service Branch

Go Army! Beat Navy!
Custom built slide out kitchen. Made from 5/8" Baltic birch. Assembled with box joint corners for strength and aesthetics. Sealed with Minwax Helmsman spar urethane coating. Measures 61 ½" L x 22 1/2" W x 16" H (it was designed to fit into a 5 foot pickup bed (2004 Dodge Dakota quad cab)). Bolts directly to a pickup bed floor and will fully extend out on 60" lock in lock out sliders. Once fully deployed another 30" section slides out on lock in lock out sliders to reveal the hidden work surface. Underneath you will find a 2 burner glass top stove with Piezo ignition and ceramic heads that will help keep the heat in windy conditions. To the right of the cooking center a HDPE work surface opens up and back to give you access to a small compartment that can house anything from dry goods and utensils. In this compartment you will find an electrical switch panel that controls the under lid lights as well as underneath lights for illuminating the ground area. It also has provisions for two USB jacks and a 12 volt socket. To the left of the cooking area is another HDPE lid that opens to a much larger storage area that can be used for pots, pans, skillets etc. one more compartment at the end of the kitchen will allow you to store items such as garbage bags, ziplocks and other items. Lots of planning and details went into this (along with plans form Dave off of this forum) as well as love. It has served me and my family for a couple years now and I feel it is time for another project to begin. If you have any questions please feel free to contact me.
Located in western Nebraska but willing to deliver a reasonable distance.
Would really like to get 950 or so out of it. That would pay for the new suspension on my trailer.
Would consider a trade for an OVS Nomadic awning drivers side.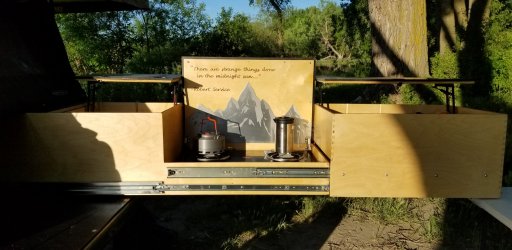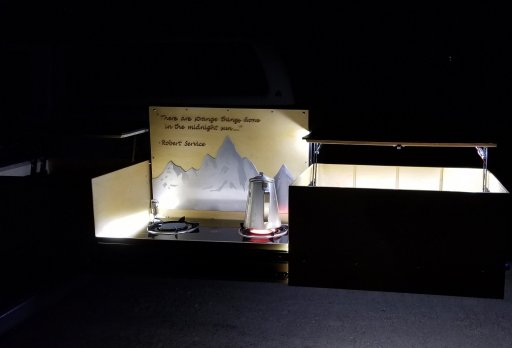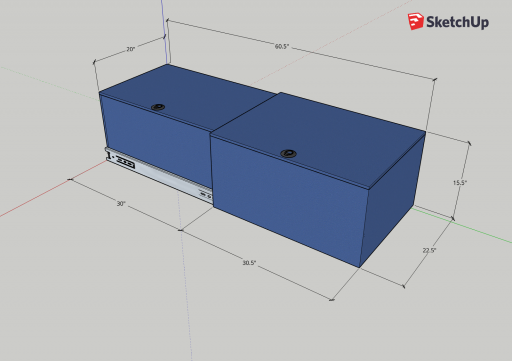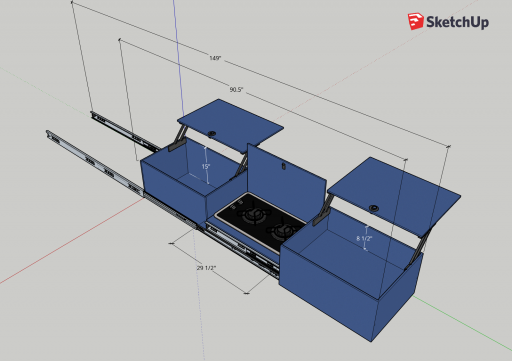 Last edited: